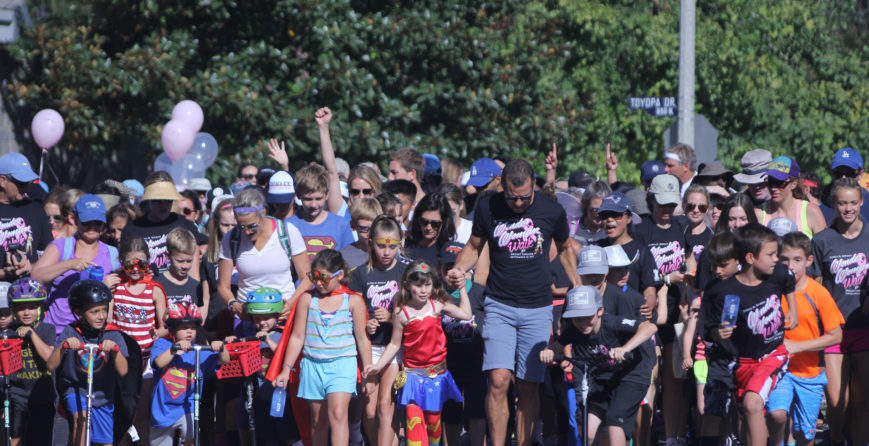 WONDER WOMAN WALK for Breast Cancer
The Second Annual Jessica M. Berman WONDER WOMAN WALK for Breast Cancer took place on September 18, 2016 and was another huge success thanks to all of our walkers and contributors. We raised over $620,000 for the fight against breast cancer.
The Foundation, in partnership with Tower Cancer Research Foundation, founded the Walk in 2015 to continue the legacy of Jessica. The inaugural Walk was a huge success! We raised over $550,000 and had over 1,100 participants.

The proceeds from the Walks have gone to fund two $500,000 Jessica M. Berman Memorial Fund Senior Investigator Grants at Tower as well as to fund patient support services programs. Our first five-year, $500,000 Senior Investigator Grant was awarded in 2015. We received 26 submissions for this grant, by an impressive list of world-class scientists and doctors, representing the leading research institutions in Southern California. Each of these submissions were worthy of our funding, but after a thorough discussion and debate amongst Tower's Scientific Advisory Board, we selected Dr. Richard Pietras of UCLA, Division of Hematology/Oncology, for his work on next generation estrogen receptor downregulators for breast cancer therapy.

In April 2016, we awarded our second $500,000 Jessica M. Berman Senior Investigator Grant. We received 23 high caliber submissions for consideration and after consultation with Tower's Scientific Advisory Board, we selected Dr. Michael Press of USC's Norris Cancer Center for his work to develop a biomarker needed to establish cancer susceptibility to a new agent that directly targets cancer cell division in breast cancer patients. The Foundation has also committed over $100,000 to breast cancer patient support services. To that end, in 2016, the Foundation allocated $90,000 to Camp Kesem to fund two new Camp Kesem Chapters at Loyola Marymount University and University of Nevada, Las Vegas as well as $10,000 to Our House Grief Support Center.