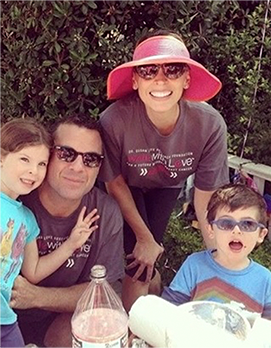 Jessica M. Berman, a loving Pacific Palisades wife, mother and friend, was diagnosed with Stage III breast cancer while five months pregnant with her son Leo.  At the tender age of 34, she became a tireless fighter for her life, an inspiring advocate for others afflicted by this disease, and a prolific fundraiser for breast cancer research.

Jessica grew up in Wilmington, California and attended the California Academy of Mathematics and Science.  She participated in beauty pageants in her teens, winning her very first pageant in 1993 as Miss Teenage California.  She went on to be First Runner Up in the Miss California USA pageant.  Her pageants provided her with scholarships that helped fund her tuition to the University of California at Berkeley, where she graduated cum laude with degrees in Business Administration and American Studies.

Upon graduation from Berkeley in 1999, Jessica embarked on a successful career in investment banking, first at Credit Suisse First Boston and then at Lehman Brothers.  In 2001, she joined The Yucaipa Companies, a private equity firm, and later worked for Colony Capital.  She retired from her professional career to spend all of her time with her husband, David, and her two children, Abby (now age 7) and Leo (now age 5).
Since childhood, Jessica had an affinity for Wonder Woman, the warrior princess fighting for justice and peace.  She came to embody this heroine in her personal battle against breast cancer.  She fought cancer valiantly for four years while always staying positive.  Jessica decided that cancer was going to be her teacher rather than her oppressor.  From the moment she was diagnosed, she immersed herself in researching cutting-edge treatments and planning a treatment protocol for herself.

Check Out Jessica's Blog here

Jessica did not let her treatments take away from the things she valued most, family and charity.  In 2011, two weeks after finishing radiation treatment, she walked 26.2 miles in the Avon Walk for Breast Cancer in Santa Barbara.  She was asked by the Avon Foundation to be the keynote speaker at that event and share her story of survival (see the link below).  Jessica was consistently among the top ten fundraisers for the annual Avon Walk for Breast Cancer event.  In 2012, Jessica was honored by the Tower Cancer Research Foundation's Magnolia Council with the Spirit of Hope Award (see the link below).  Sadly, only two weeks before receiving that award, she learned that her cancer had returned and had advanced to Stage IV.

Though Jessica passed away on August 24, 2014, at age 38, her legacy lives on through the Foundation.